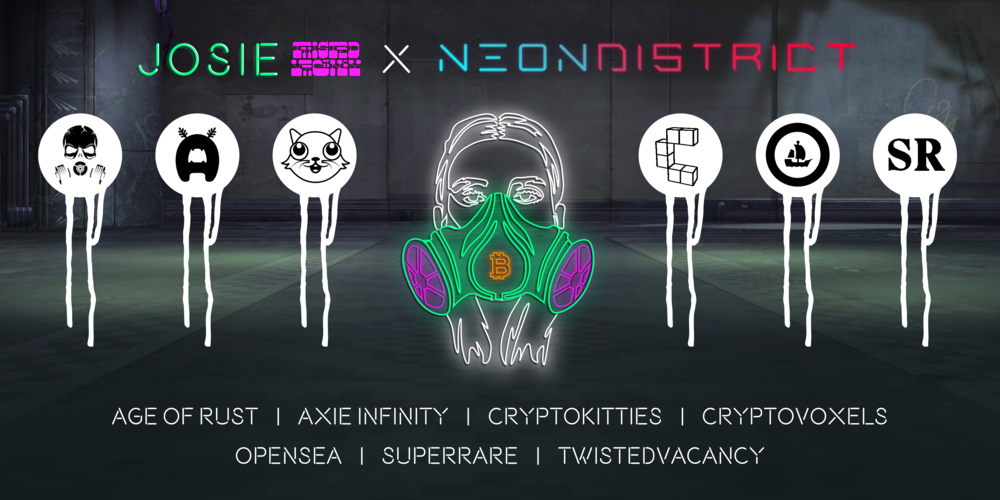 We recently participated in the Yours Truly puzzle created by Josie Bellini (@josiebellini) and managed to secure a victory by being the first to solve the entire puzzle series. Here is a walkthrough of all the puzzles and how to unlock Josie's Yours Truly puzzle wallet.
Team:
---
Index
Josie Newsletter
Yours Truly - CryptoVoxels
The Nine Puzzles

Neon District
Axie Infinity
SuperRare
Yours Truly - AR
Yours Truly - Painting
CryptoVoxels
CryptoKitties
Age of Rust aka FOMO
OpenSea

The Solution
Fin
---
1. Josie Newsletter
The Josie newsletter for the Yours Truly puzzle was posted here on February 20, 2020:
https://josie.io/campaigns/view-campaign/TgudOYJSmjhBCZjqArH9iUzm2dtjTvC9_fYi5VZ19qgqzqw6hDRnfcBHUHp_pjueT6vCX-tF-CwZyYaXfgQ58KMMw-UbvNWl
The tweet announcing it live:
"Yours Truly" puzzle is live! Here is the newsletter from this morning https://t.co/2nTSgQBfxP. NFTs have all been reserved. Prints are still available. Thank you for your support! Join the discord to chat puzzle stuff https://t.co/TCcfh7puEO pic.twitter.com/M4UJqXq8Sr

— josie (@josiebellini) February 20, 2020
The newsletter leads you to the Yours Truly painting:
On the chin of the woman, you can see coordinates: 184E, 400N.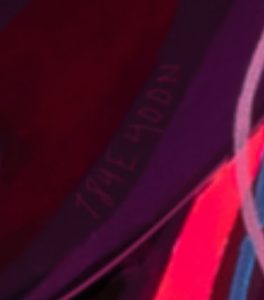 ---
2. Yours Truly - CryptoVoxels
The coordinates from the Yours Truly painting leads you to a CryptoVoxels location:
https://www.cryptovoxels.com/play?coords=S@184E,400N
This brings you to a big boxed building at 1 Thomas Center that you cannot see much from the outside.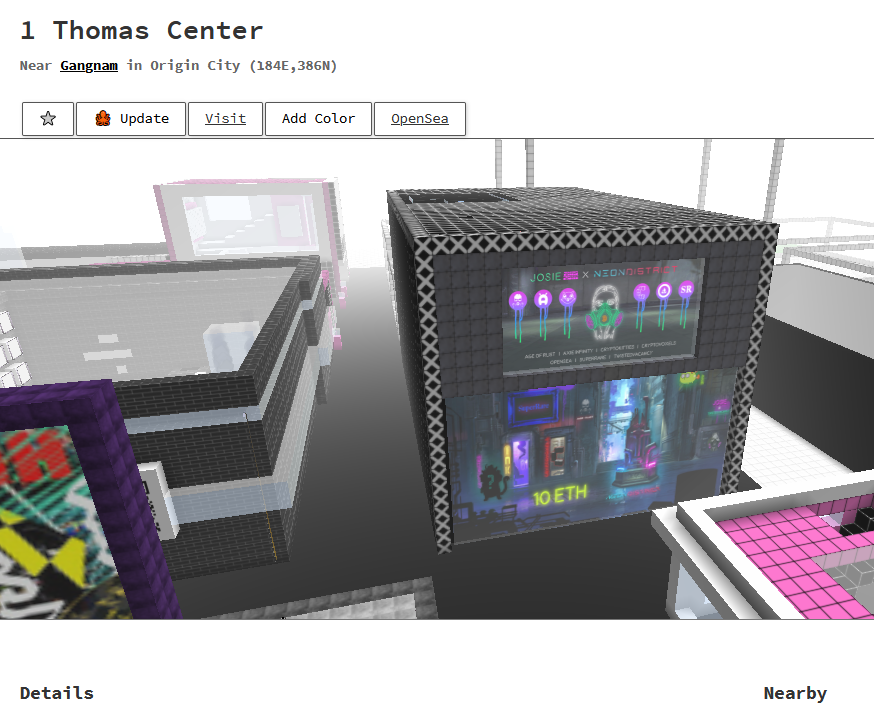 There is a semi-transparent image that is a doorway through the image that lets you enter hidden pathways. Once you find your way through the halls, it takes you to several different themed rooms.
This was the hub for the entire puzzle series as many of the puzzles involved using information from this building or led you to where you needed to go.
---
3. The Nine Puzzles
There was no linear path or order to solve the puzzles, although some puzzles contained information that was useful for other puzzles. Instead of trying to give you the path we took, it will be easier to explain each puzzle and how you solve them.
This link was used to check the puzzle solutions and it also told you all the puzzles you needed to solve:
https://resultchecker.neondistrict.io/
---
4. The Solution
When you enter all of the solutions into the solution checker, it congratulates you and spits out the seed words for the Yours Truly wallet.
Answers:
| | |
| --- | --- |
| Neon District | [[constance.turner|40fea51b2e6de52c]]->[[chase.just.chase|19084c01578b09eb]]=[[%/env/compat/scratch/GARBAGE]].0915303471 |
| Axie Infinity | 29510789db75ccef5enothing |
| SuperRare | human circumstances are repeating and the story seems to only lay bewildered in your future machinery where ghosts become eternal |
| Yours Truly - AR | whydoifeellikethis? |
| Yours Truly - Painting | yt |
| CryptoVoxels | thesharkreportserrorstofundyourlazymemory |
| CryptoKitties | 47507407073393311908305329322427874768232641620211662879 |
| Age of Rust | verify delay sleep cute close sister intact salad century pitch question smart |
| OpenSea | enkicreatedanamshubtoprotectagainstasherah |
Result: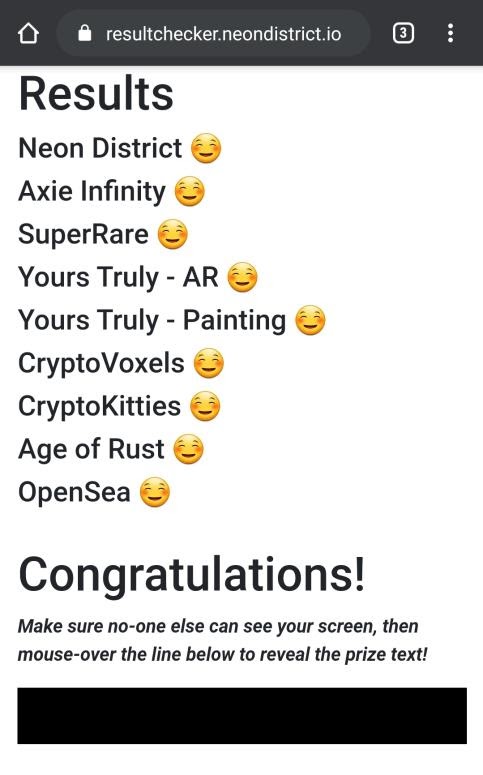 Seeds: vintage omit vendor chase cargo raise day wine moon olympic siege horror
---
5. Fin
Thanks to Josie Bellini (aka josie.io) for putting this amazing puzzle series and event together.
Thanks to the following for sponsoring prizes or being a part of this:
Special thanks to Ben Kelly (axie.gg) from the Axie community for putting up with ziot's dumb questions and trying to give us ideas for the Axie puzzle!