Montecrypto: The Bitcoin Enigma
A solve diary & challenge-by-challenge walkthrough by the crew who cracked it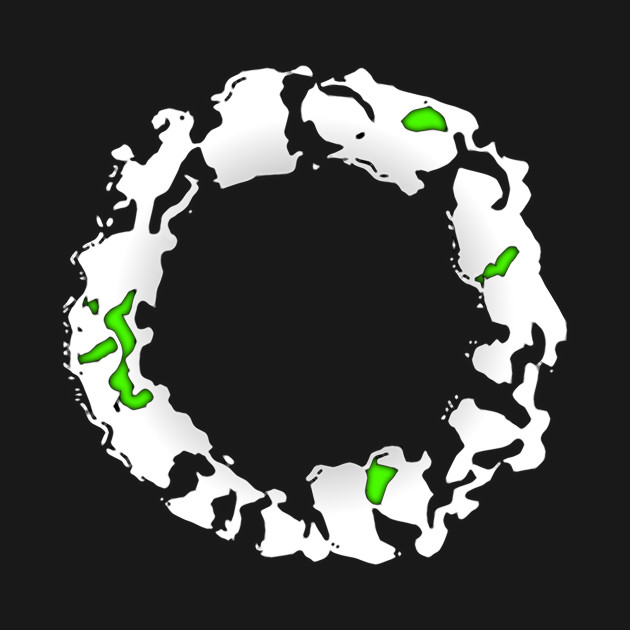 ARG Solving Station: Luigy, en, JTobcat, ziot, motive, Askin, lucifers_cat
Special thanks to: Austin, nsnc, pipecork
Meet us and learn more in ARGSS https://discord.me/arg_solving_station
Solvers
Summary
MonteCrypto is a UE4 crypto puzzle game that launched on Steam February 20, 2018. You are tasked with completing 24 Enigma puzzles to obtain words used to open a cryptocurrency wallet containing a 1 Bitcoin prize.
Upon entering the game, you land in a lobby with three exits. As soon as you walk through one of the exits, it begins a 60 minute timer that forces the game to restart when the time runs out.
The objective is to use any means necessary to collect the Enigma solutions and figure out how to unlock the Bitcoin wallet. This extended as far as hacking the game client and finding ways to solve broken puzzles.
This write-up is a journey of the tools we used, the technical approach we took to solve each Enigma, and some of the mistakes we made along the way.
Table of Contents
TOOLS USED FOR SOLVING
Ninjaripper
https://gamebanana.com/tools/5638
A tool that we used for ripping images from memory
Cheatengine
We used this for teleporting and dumping data from game memory early on.
Austin's dll
Austin in the GameDetective community created a dll that did a lot of useful things. While some of it just made traversing the game 9000+ times tolerable, it also made one of the puzzles solvable. Without the ability to dump objects and teleport to them, it is likely that only a very few amount of teams would have solved the Spirit cave due to a bug that put all of the spirits outside of the game hallways in inaccessible areas.
Anti-tp bypass

noclip

Game object dumper

Dumped all of the disassembled code for Blueprints
Umodel
http://www.gildor.org/en/projects/umodel
This tools lets you load Unreal umodel 3d assets and 2d textures
Quickbms
http://aluigi.altervista.org/quickbms.htm
A tool for extracting Unreal pak files. Using the Unreal Editor 4 script we were able to extract all the files from the MonteCrypto pak file.
Forensically
https://29a.ch/photo-forensics/
Really useful for quickly spotting weird shit in images without a lot of effort.
Script we wrote to generate possible wallet passwords using our ordering theory, or every possible order. Handles words we're not sure about either.
TIMELINE
An approximate timeline of our Enigma solves:
(Day 1) 13 - Frog Pond / Jumping

(Day 1) 17 - QR Codes

(Day 1) 16 - Achievement

(Day 1) 22 - Binary Window

(Day 1) 14 - Server Room

(Day 1) 6 - Office

(Day 1) 18 - Blue Room

(Day 1) 12 - Goblin Statue

(Day 1) 23 - Painter

(Day 2) 15 - White Lights

(Day 3) 3 - Floating Crystal

(Day 3) 24 - Sun Cave

(Day 3) 21 - Vault

(Day 4) 19 - Candle Cave

(Day 4) 8 - Skull Room

(Day 4) 5 - Lullaby

(Day 4) 10 - Library

(Day 4) 4 - Invisible Staircase

(Day 4) 7 - Floor Pits-words mined day 1, solved via pi deduction

(Day 4) 9 - Zelda Forest-words mined day 1, solved via pi deduction

(Day 4) 1 - Epilepsy-words mined day 1, solved via pi deduction

(Day 14) 11 - Rain

(Day 22) 20 - Who Am I?

(Day 63) 2 - Forest / Outside
The Game Map
Our first few maps were Photoshop-fu via pulling together screenshots of each others maps as we blindly ran around the maze with one hour-timers preventing us from getting big areas of the maze mapped without needing to retrace our steps. Many times...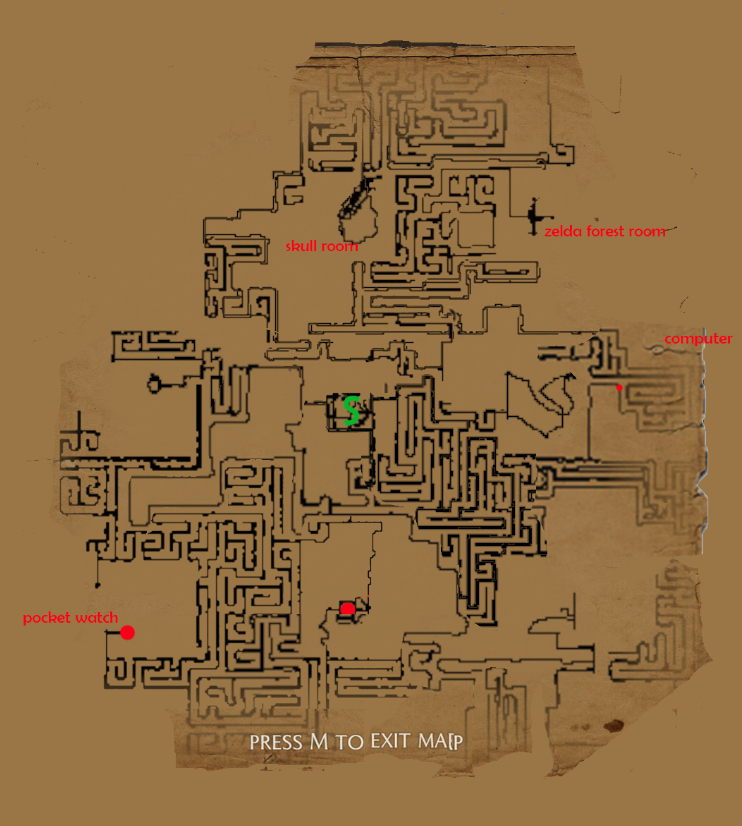 After we realized that the maze extends beyond the confines of the in-game map, this effort quickly diminished and was replaced by mapping it by hand in a Google Spreadsheet, which took 3 people the better part of a week to complete:
Doing this was made easier by a few realizations about how the maze was built as we traversed through it:
The maze corridors are always odd lengths

A turn was never made without some length of corridor after the turn

There are never greater than one distance gaps between parallel corridors

Other than enigma rooms, there are no large empty spaces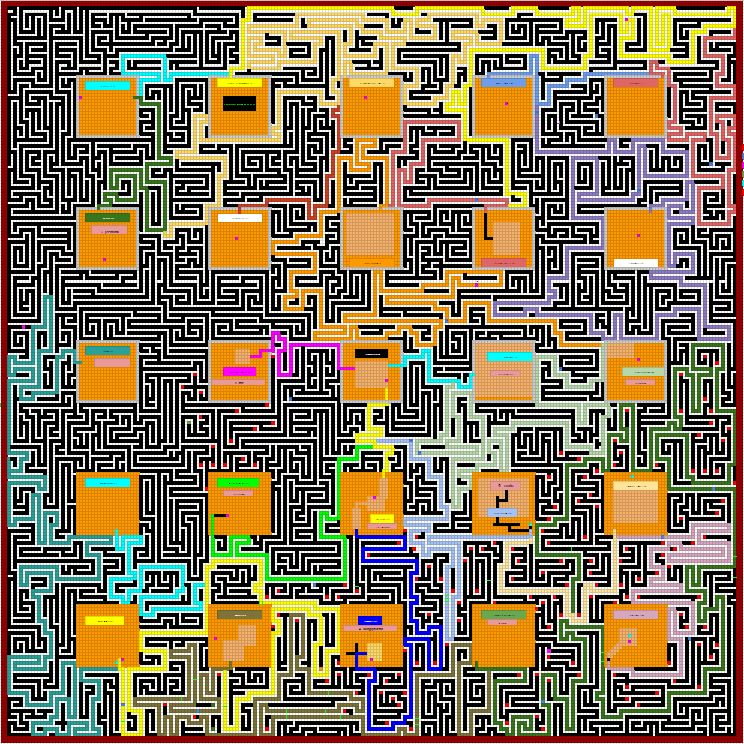 A labor of love - the maze mapped out by hand in a Google Spreadsheet.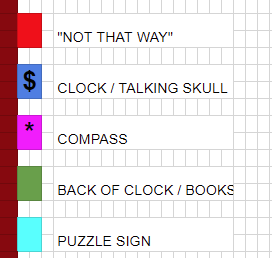 The map's legend. We started to list out the locations of all "NOT THAT WAY" mayor appearances as well as the locations of all compasses and skull bookshelves.
PI SEQUENCE ORDER
One of the first things we discovered in this game when roaming through the halls is that all of the dead-ends contain a creature that shouts "NOT THAT WAY!". This event occurs as you approach the wall with a small slide opening and the creature briefly shouting at you before closing it. No one really knows what this creature is, but some guessed that this might be The Mayor.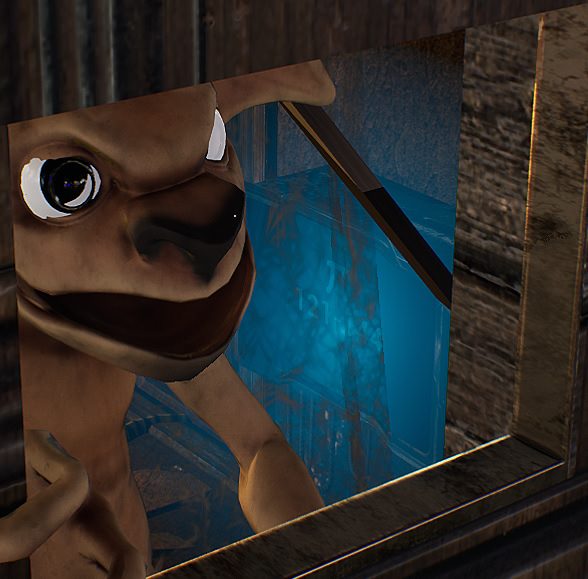 Inside of the room, there is a terminal on the side that is somewhat obscured unless you look closely. The way the game works, it loads in a tiny room that is hidden above the lobby when you approach those dead-ends. By noclipping you can trivially fly into the tiny room and see the terminal.
The terminal says: Pi 121-144.
Taking the numbers of Pi starting at index 121 and going up until 144 gives you the following numbers: 093844609550582231725359
This gives us 24 numbers, the same number of Enigma/solutions in the game.
It was clear very early on that this was likely the order we needed to use to both validate some of our solutions and give a primary sort order to solution words for the wallet password.
ENIGMAS
The Enigma solves below are not in the order that we solved them but the linear order based on the room numbers in the game.
Final Solve Steps / MonteCrypto Solution
Having the pi sequence order, number-word solutions, and wallet files. We ran Hashcat with all of the possible permutations until we got a hit. Using that, we were able to use the Bitcoin Core to extract the Bitcoin prize out of the wallet.
Proof:
https://live.blockcypher.com/btc/tx/b02f1aea315f677d98427ca0bd8c48e3cc5a7225a72436b1dfc2c163f69e02f0/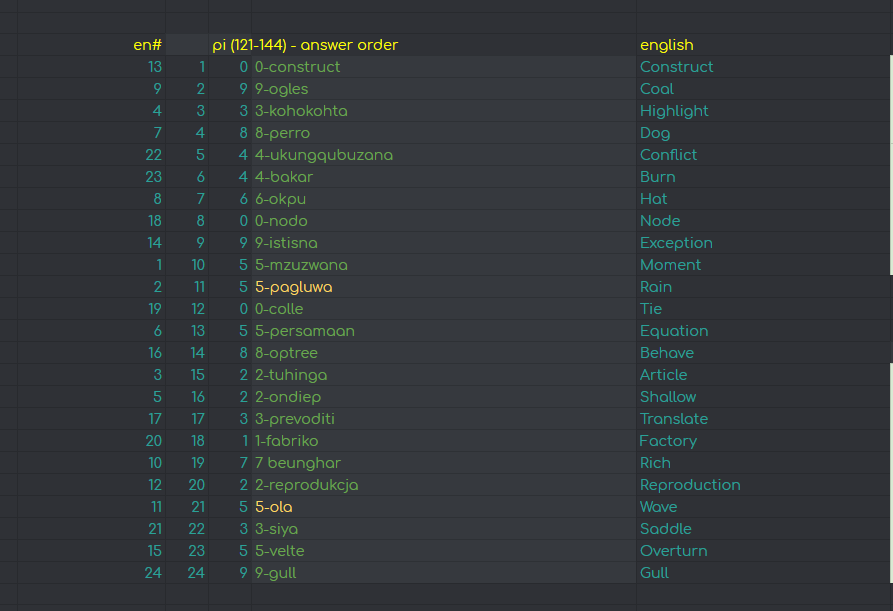 The final password and solve for MonteCrypto:
construct istisna prevoditi optree bakar ukungqubuzana okpu colle gull velte mzuzwana nodo persamaan perro tuhinga reprodukcja siya fabriko beunghar ondiep ola kohokohta pagluwa ogles
See Appendix A - Wallet bruting for how we bruteforced the final solution from all the possible permutations from the above list.
ADDITIONAL FLAVOR PUZZLES
Though we did not know this until much later in the solving process after lots of time had been sunk into them, the following puzzles and findings in the maze appear to be lore / flavor only and are note unnecessary for solving the main enigmas.
Compasses and Skulls
The game included small compasses you could click on that would play audio files. There were also shrines that had skulls on them that would play lore audio when you clicked them. Both of these turned out to be entirely for achievements, game lore, or ciphered troll messages that did not appear to be related to the puzzles for the wallet. We're not going to bother writing up information on them due to this.
Appendix A - Wallet bruting
Setup
john1.8J1-bc1bbc96f (john-jumbo bleeding) and 3 previous versions were used to convert wallet.dat, the zip files, and the dmg file to a brutable hash format for both John The Ripper (JTR) and hashcat. These are bitcoin2john.py, zip2john.exe, and dmg2john.exe.
Generating wallet passwords
We weren't sure on a few words. We also weren't sure about the final password being the order of the enigmas. Here's the script we wrote to generate those permutations:
Here's what the final solve looked like: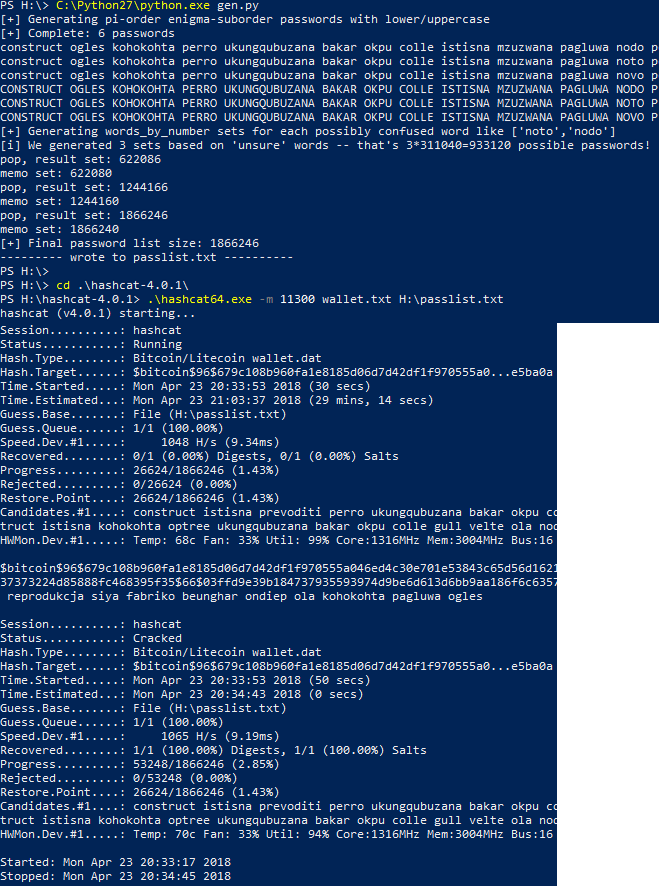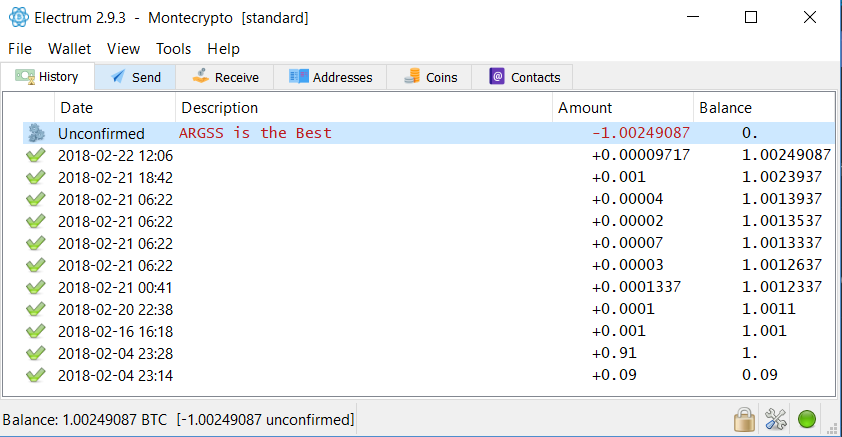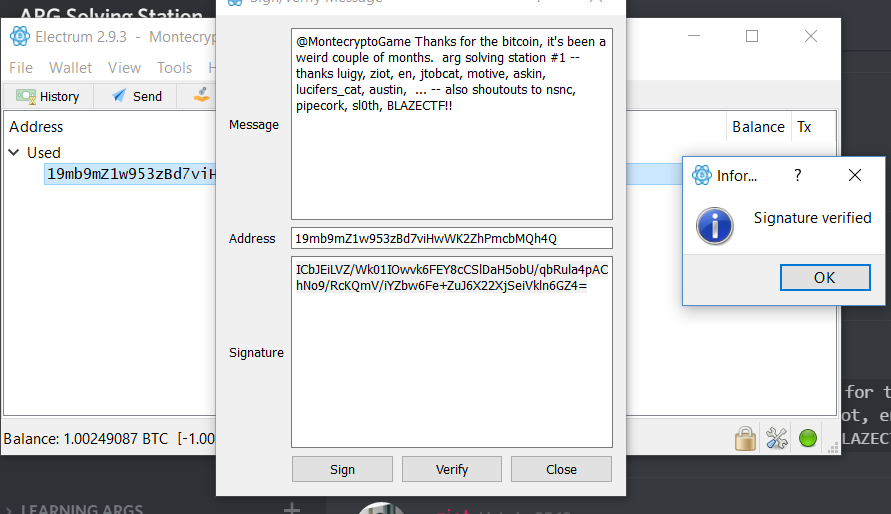 Stats
We ran the generator to brute a bunch of ideas that didn't pan out for enigma words. We also ran JTR against the zip files with multiple wordlists + dive rulesets. At one point we ran strings against all extracted assets and passed that as a wordlist (this solves the first two zips).
Discussed below, we ran our B&K attack on iteratively lower numbers of known plaintext on 100 cores for 48 hours. Only the three keys were recovered.
Appendix B - Biham and Kocher's Known Plaintext Attack
Enigma 3 and 4 produced passwords to two zip files in MonteCrypto. Having only one challenge left (Enigma 2), we had one zip without a password as well. This is "dexterandalmar.zip," it contained a file named "important.jpg". By viewing the file headers, we could identify that it was made using p7zip-full on a unix distro. frVersion was 0x314, but the zip format does a bitwise and of this value with 0xFF to determine the proper version of 0x14. So after googling around for the number, it's apparently the bitwise or of 0x14 and 0x300 -- 0x300 indicating it's from the unix distro of 7zip. Who would've thought.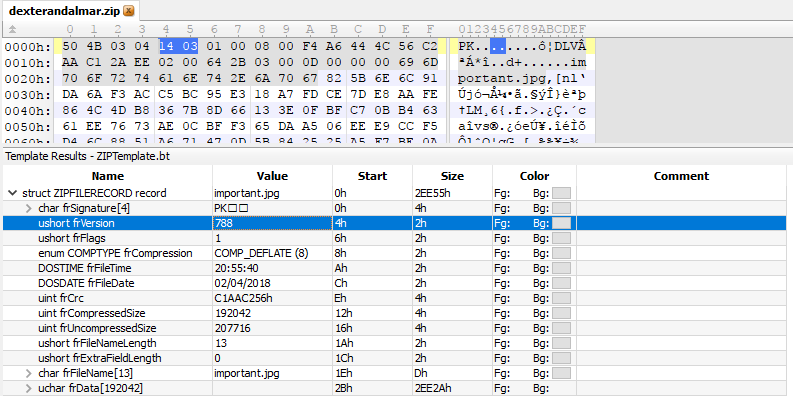 Biham and Kocher's Known Plaintext attack is the first thing that comes to mind when seeing pkzip-encrypted files. The idea is simple -- if you know 13 bytes of the original file before encryption, you can apply this attack to brute force the 12 byte encryption key. How many bytes of the original file do we know? Well, we collected every JPEG we could find associated with montecrypto. Here's what the header bytes of some of them look like: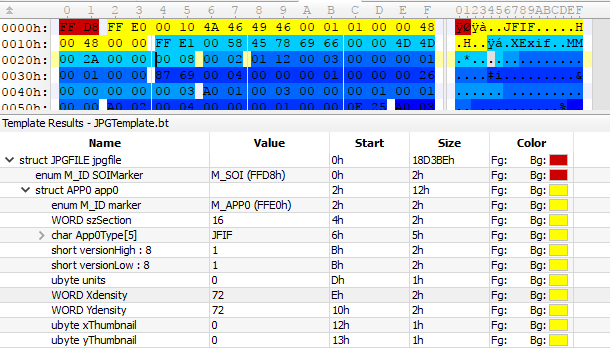 You can immediately see there is a "JFIF" header, followed by an "Exif" header. Looking at all of the JFIF headers from JPEGs related to MonteCrypto, the first 21 bytes had only 3 variations. So we probably know 21 bytes of the original file, right?
Not quite.
The "plaintext" or original file here is compressed before it is encrypted with PKZIP. So those 21 bytes represent a smaller number of bytes before encryption. You might think -- oh, well just try to zip those bytes without a password! That could get you the bytes before encryption. However, 7zip and friends have an optimization to prevent "compressing" files that are too small to be effectively compressed by the DEFLATE algorithm. It won't even attempt to compress the data.
Your options are now:
Write your own DEFLATE implementation.

Patch that optimization out and recompile.
This was a pain and a waste of time.
Find a DEFLATE library that will actually compress the data.
Python ended up doing it with some coercion
This is the part where there's more bad news. DEFLATE compressed data is different depending on the bytes that follow. We don't know what bytes could follow our 21 bytes. So, if we just append some null bytes…. Python will give us something that looks correct.
We actually notice several more possible variations of JPEG header (such as JPEGs that start with EXIF before JFIF). So we are down to a few possibilities:
So, we have our compressed "plaintext" bytes! Now we can use a pre-written tool such as bkcrack or yazc. These tools implement the B&K attack to reduce the space of possible encryption keys. They then attempt each, and see if they match up to the known plaintext. Plug everything in, bkcrack will quickly produce a key:
That's a valid decryption key! We use bkcrack to dump the decrypted contents, which we then need to monkey-patch into the original 7zip to coerce it to decompress. However, trying it with that key will quickly show you the problem, when DEFLATE fails:
That's all the data it could dump. It doesn't look like the correct bytes to follow a JFIF header. That's because the decryption key was only valid for the first X bytes of plaintext we passed bkcrack.
So there can be more than one key that decrypts to a tiny portion of known plaintext. We modified bkcrack to not stop on the first key found, and we modified it to "work" on zip files smaller than 13 bytes (the keyspace is just much, much larger with more false positives). We pointed 100 cores at the problem and came up with these 3 keys:
None of which decrypt the entire DEFLATE-compressed JPEG correctly. Sad end 😭
Appendix C - Disassembling UE4 Blueprints
It's literally done for you (link requires UE4 source code access or it'll say 404 -- request access on UE's site). You can iterate over a global array of UObjects, check if they're a UStruct, and then pass the disassembler their script pointer. Here's an in-memory screenshot of what that array looks like: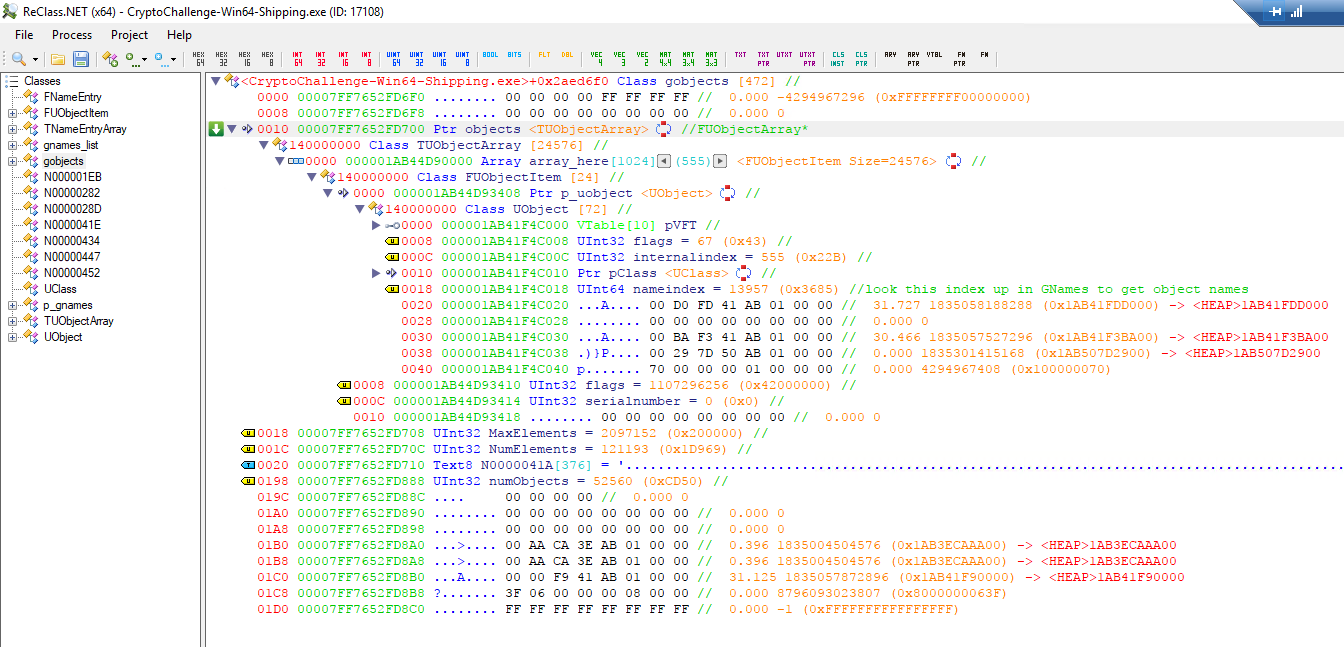 A pointer to the global objects array can be found by searching for this pattern in the game in IDA Pro: 48 8D 05 ?? ?? ?? ?? 48 89 01 33 C9 84 D2 41 8B 40 08 49 89 48 10 0F 45 05 ?? ?? ?? ?? FF C0 49 89 48 10 41 89 40 08
UStruct is the superclass that contains the pointer to blueprint bytecode as a TArray<uint8> -- which is effectively a byte array:
https://github.com/EpicGames/UnrealEngine/blob/4.18/Engine/Source/Runtime/CoreUObject/Public/UObject/Class.h#L236
---
Appendix D - important.jpg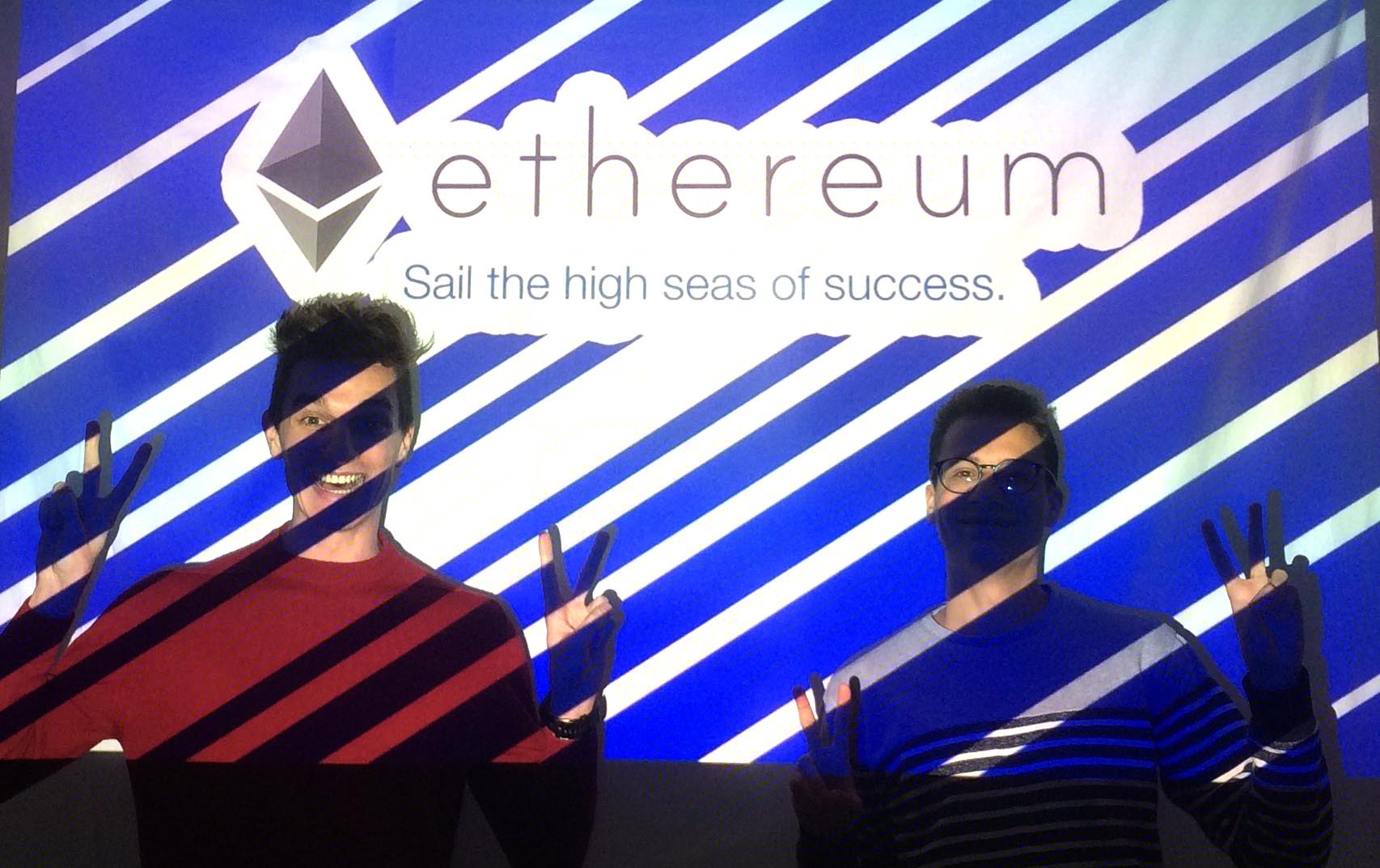 Appendix E - Our Thoughts on Hacking the Client
For some time after the game's release our group was torn - should we hack the client to bend it to our will for the sake of solving and getting around the maze more quickly - or is that immoral and breaks the spirit of fair competition.
Just a few days after release though we realized the following:
The game literally has an achievement that you can only get via falling through the world, something you could never do without noclip or teleporting
The game has a wall that it explicitly encourages you to teleport or noclip through
The rain room. The first half of the solve for this room is to teleport up to the listed value on the z axis.
Once we saw all three of these existed we felt like the developers of the game not only expected players to hack the client, but they required it to actually solve the full gambit of puzzles.
From that point forward, the only way to be on the same playing field as our competition, let alone win, was to embrace that hacking the client was an expected part of the race.